Indian Dance Classes in the Philadelphia Area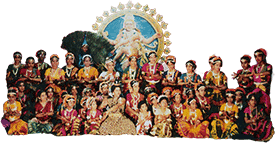 Fall Classes in Indian Dance
Bollywood/semi-classical, Bharatanatyam, and
Garba/Dandiya classes
Saturday morning and Sunday evening classes
at Eileen's Academy of Dance in Fairless Hills, PA.
Spring Session Starts In January
As always, your first lesson is FREE!
Please Call 215-295-2306 or email
for more information about class schedules and pricing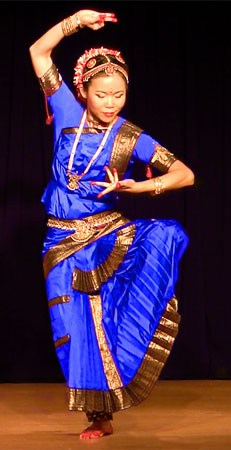 I teach both classical Bharatanatyam and semi-classical/Bollywood Indian dance in southeastern Pennsylvania between Philadelphia, PA and Princeton, NJ. I offer Saturday morning classes at Eileen's Academy of Dance in Fairless Hills, private classes in my home on weekday evenings and group classes at student homes in the area.
Group and private dance classes are 30 to 60 min, once a week depending on the type of lesson. For details of lesson times and prices please call or email.
Prospective students are invited to participate in their first class for free so they can see how they like it. I look for students and parents who appreciate and value dance and my extensive Bharatanatyam training and expertise.
All the dances I teach are choreographed to suit the experience, strengths and style of the particular student or group of students.
Virtual classes are available for students far away.
Bharatanatyam Dance Classes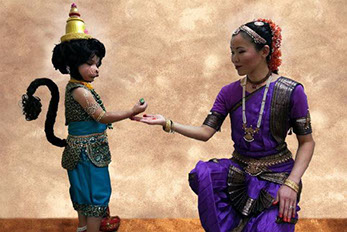 The style of Bharatanatyam I teach is Vazhuvoor Style. My dance lineage is Vazhuvoor Ramiah Pillai (founder and creator of Vazhuvoor style) to Padmini Ramachandran to me.
In class, I teach mudras (hand positions and their meaning), aduvas (steps) with sollu kattu (rhythmic syllable), Bharatanatyam dance theory and history.
For more information on Bharatanatyam please see my Bharatanatyam page.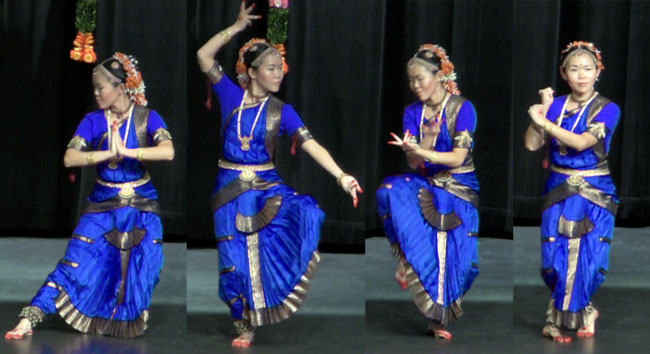 Semi-classical and Bollywood Dance Classes
My semi-classical and Bollywood classes are a unique blend of steps from classical, Bollywood, folk and modern dance set to film music. I put much effort and take pride in custom choreography for each student or group so that every performance is unique and showcases the individual strengths and style of each student.
In my Semi-classical and Bollywood classes I teach a basic set of hand positions and steps from various classical dance forms. These are then added to contemporary step in sequences that are fluid and fun.
This allows for new combinations of steps, variations in speed, and the creative presentation of the basics from classical dance in a modern setting.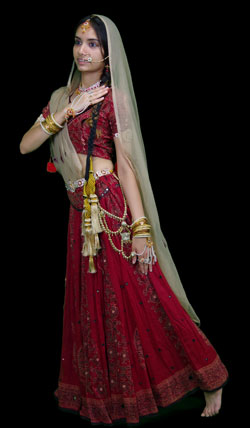 Garba and Dandiya Classes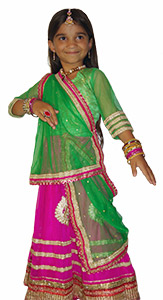 This fall, get ready to dance at Navarathri by learning Garba and Dandiya/Raas steps in a fun group class with other kids. Impress your friends with your new dance moves!
We will start with the basic steps, so no previous dance experience is necessary.
Kids Dandiya Team is forming this fall!
Join this fun group class which is available Saturday morning or Sunday evening.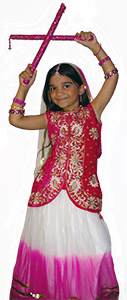 My dance students perform at functions of local Indian associations (for example, Tamil, Telugu and Malayalam associations), the annual Hare Krishna festival in Philadelphia, and at talent shows in their schools. Videos of some performances and student photos can be seen here.
Student Dance Performances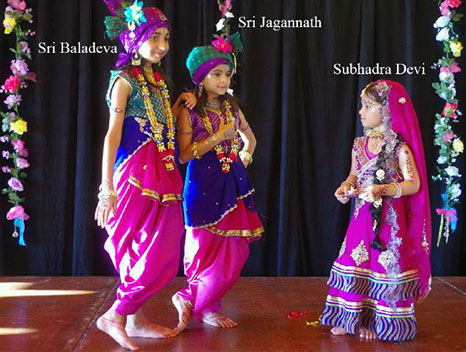 Semi-classical students in 2014 Philly Chariot Festival at Ben Franklin Parkway
Dance Film
For students who are interested, I'm excited to be able to offer the opportunity of capturing their dance on film. This allows students to work in unique off-stage environments and take part in a new kind of storytelling and drama. This medium is variously called dance film, videodance, dance for camera, screendance or cinedance. This is a flexible, powerful and increasingly popular way of creating a one-of-a-kind performance that can be viewed by a worldwide audience. Examples of already completed films are available here.
I also give a special 2.5 hr seminar on "Sacred Dance of India" that is geared towards people who are interested in an introduction to India's sacred dance with an emphasis on the spiritual aspects of this ancient art form.
Sacred Dance of India
Contact Information
For more information, please contact me.
Phone: 215-295-2306
email: mekalai@yahoo.com
Fairless Hills Location
980 Trenton Rd #1
Fairless Hills, Pennsylvania 19030