I first saw Bharatanatyam at the age of 2 in Madras, India at a performance by Padma Subramaniam hosted by the Lions Club of Madras where she received the title "Suderkodi". My parents say I loved the music and movement and started dancing in the aisle but fell and cut my lip. Some kids from the Lions Club Youth Group told my mom and dad they would take care of me and they should keep watching the dance. At the end of the dance mom and dad asked were I was and the kids took them to the front of the auditorium where I was sitting with Chief Guests - Tamil movie star Shivaji Ganesan and movie star and famous dancer, Padmini Ramachandran. Shivaji Ganesan told mom and dad that he was so surprised to see such a little girl so enraptured in the dance performance that I didn't even notice my cut lip. He suggested they should definitely take me for Bharatanatyam dance classes and Padmini agreed!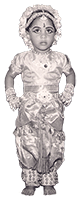 I started Bharatanatyam lessons at the age of 3 from Rajalakshmi Govindan, Salem, India.
In 1974, after moving to Philadelphia USA we learned that Padmini was teaching Bharatanatyam in New York City. It was a dream come true to become her student! My parents drove to NYC every Saturday so I could learn from Padmini. I was Padmini's disciple from 1974 to 1980 when my sister, Guna, and I had our Arangetram in the Drexel University auditorium in Philadelphia. Padmini was an incredible dancer and an inspiring teacher. I consider myself very fortunate to have received Bharatanatyam instructions from Padmini and call her aunty.
My sister and I performed on several occasions in PA, NJ, NY. I also performed at the Miss India-USA competition held in Central Park NYC, India day celebrations attended by the mayor of Philadelphia, and Christmas celebrations attended by Cardinal Kroll of Philadelphia.
In the Indian Classical Dance Competition conducted by the Creative Indians Association in New Jersey 1978 I won second place with my performance of Bhavayami and in 1979 won first prize with a Thillana.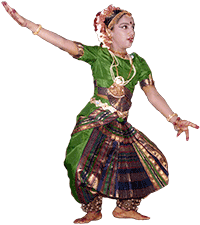 On Saturday September 13, 1980 Guna and I completed our Bharatanatyam Arengetram performance in the Main Auditorium of Drexel University in Philadelphia, PA.
I performed extensively in the tri-state area and the east coast.  Some of the highlight performances were: a 3 hr recital in Kansas with the centerpiece being a 45 minute long dance, 1st prize in Bharatanatyam at a national competition, and performing in Central Park NYC at the 1980 Miss India-USA competition.
After graduation, I started teaching dance in Philadelphia and Lansdale.  During this time I taught over 100 students who performed on numerous occasions in the Philly area. I arranged 3 large dance performances in 1984, 1989, and 1990 to showcase my students. I also choreographed and performed in a dance drama on King Mahabali and a unique dance composition on Christ for the Archdiocese of Philadelphia.
From 1994 to 2006, I had gap in teaching dance full time while I was at graduate school completing my PhD in Molecular Biology followed by a postdoctoral fellowship. I kept in touch with dance by doing special choreography for specific functions and in 2008 started teaching dance again.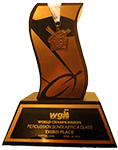 In addition to choreographing Bharatanatyam I have also choreographed the dance portion of large performances such as Winter Guard International. In 2010 the team I choreographed won bronze at the world championships.  I was also recently a judge for a dance competition for an Indian TV show (Josh NRI Dance Talent Hunt for Gemini TV India).
I now teach private and group lessons in Bharatanatyam and semi-classical Bollywood style dance in Morrisville, PA. I offer lessons from introductory to advanced. I enjoy choreography of both Hindu and Christian themes.